September Blog – Delivery Options & ModJobs
It's been a little while since we've had a chance to write a blog but welcome to the new financial year! In this blog we plan to share some of what we've been up to and explain the three delivery methods for containers. Thanks for reading!
Our Latest Projects
Over the past few months we've been hard at work (as always) bringing our clients requirements into being and working on some of our own projects.
20ft Highcube Site Office – The Man Cave, Site Office, Time Out Room, call it what you like, our Office Container is ideal for so many applications. It comes full weatherproof, insulated, with power points, LED lights and a massive 3KW reverse cycle air con. It is fitted with an easy access PA door along with a sizeable sliding aluminium window, capped off with hard wearing lino flooring. Our office containers are available for hire or outright purchase! If you are after your own bespoke container(s) let us know.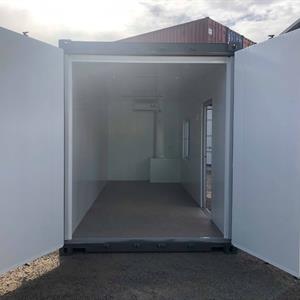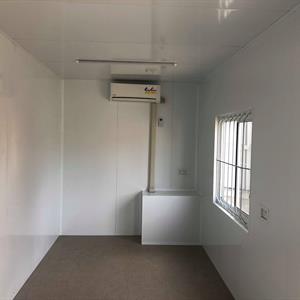 20ft Plumbers Box – This container is ideal for our hardworking plumbers and sparkies alike! High quality, secure and portable storage that can actually fit their pipes, cables & all the other gear, which is enabled by a 300mm L x 1200mm W x 2400mm H, 'Boot' installed in the front wall with triple 3 tier racking which is secured to the floor, ceiling and wall! Painted in our favourite colour, woodland grey, this 'A' grade container will look fantastic on any site!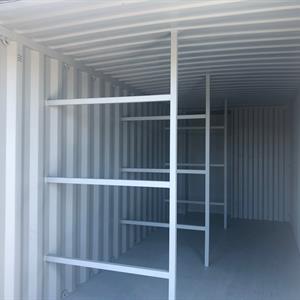 Bespoke 20ft Site Office – One brand new 20ft Container Office for one more ecstatic client! Our client came to us unsure of exactly what they were after so we went ahead and explained the various avenues we could take, then walked them through the process step by step until we came to the fantastic final product you see now! Container Options now has access to an advanced CAD program which our client used to visualise how their container would look once finished and allowed us to trial different layouts before we began on the real thing!
Delivery Transport Options
There are three different transport options available for delivering containers and depending on factors such as the prevailing conditions (mud, rain, wind, sloping landscape) of a site and whether the container is loaded or unloaded. All deliveries need to be planned out and given some though otherwise unforeseen issues may arise when the container is being delivered. These issues may be as simple as the doors facing the wrong direction or the site being too wet for trucks to drive on. In short, the list is endless and prior planning can prevent the vast majority of complications from occurring. In order for your container to function as it should it, it is also important to ensure your container sits on a level surface.
Universal Truck Tenants:
The land where the truck parks to unload needs to be relatively level. If the site slopes, the truck can unload if parked facing up or down the slope. If the truck is positioned facing across the slope, as the tray lifts up and the truck starts to drive out from under the container it can jump the side rail of the tray and roll over.
Most transport companies don't like to take their vehicles off road. If delivery is into an area where the ground isn't sealed or compacted / hardstand, the driver will inspect the area and make a judgement whether or not to proceed. If the vehicle becomes bogged / stuck you will be liable for the recovery cost. So it's a good idea to make sure you identify any soft or wet areas, old rubble drains, recently excavated / filled areas etc. then advise the driver of their location. Also have an alternate site to place the container in case the driver won't go off the compacted surface.
Tilt Tray Trucks – Cheapest Option available and suitable for most jobs. Suitable for all containers.
Tilt tray truck delivery is perfect for when there is space to spare in front of where the container will be placed. First you must decide whether the end doors will be facing the cabin or the rear of the truck. Once the truck is on site, it will either drive or reverse into position, the driver will then tilt the tray and slide it back until the back corner of the container is on the ground. The truck then drives forward and the container slides down the tray of the truck as it drives forward until it is clear from under the container. Container delivered!
Whenever you use trucks there are number of variables to consider and account for, follow the link for a full list: https://www.containeroptions.com.au/shipping-container-transport/tiltray
Sideloader Truck – Great for loaded boxes or when space is starting to become limited. Suitable for 20ft and 40ft containers.
Sideloader delivery is best suited where there is limited space in front or behind where the container is to be located. As with tilt tray trucks you must first decide which way the end doors will be facing, either to the cabin or the rear of the truck. Sideloader trucks only offload from the driver's side of the truck and this must be taken into consideration when organising a sideloader delivery. First it will pull alongside where the container is to be positioned. The driver will deploy two outriggers to support the weight of the container. Then the container is lifted by two crane arms at either end of the container using chains and lowered gently to the ground. Container delivered!
There are a number of extra bits & pieces to consider when using sideloaders, follow this link for a full list: https://www.containeroptions.com.au/shipping-container-transport/sideloader
HIAB Truck – The HIAB truck is perfect for when space is very limited, when containers need to be lifted over small buildings, fences or when accuracy is needed. Suitable for all containers.
These trucks are used to lift & position containers into hard to reach places such as over other obstacles or onto platforms/raised areas. As with the other two delivery methods, you must decide which way the end doors shall be facing although it isn't always important as the crane can turn the container around when lifted. First the truck will get as close as it can to where the container needs to be and then it will deploy its outriggers to stabilise the truck. The driver will then deploy the crane and will secure either chains or harness straps to the corner castings and begin to lift the container off the truck bed and deliver it into position. Container Delivered!
As with sideloaders there are number of extra things to consider and account for when planning to use a HIAB truck, follow the link for a full list: https://www.containeroptions.com.au/shipping-container-transport/hiab
That's a wrap! Please stay up to date by following us on our Instagram, Facebook, LinkedIn and Pinterest pages, links are down below! And if you're already a client of ours, we would really appreciate Google and Facebook reviews as it raises our online profile! Any and all feedback is welcome! Stay safe until next time folks!
Social Media Links
Instagram – https://www.instagram.com/containeroptions/
Facebook – https://www.facebook.com/containeroptions/
LinkedIn – https://www.linkedin.com/company/container-options-pty-ltd/
Pinterest – https://www.pinterest.com.au/containeroptions/